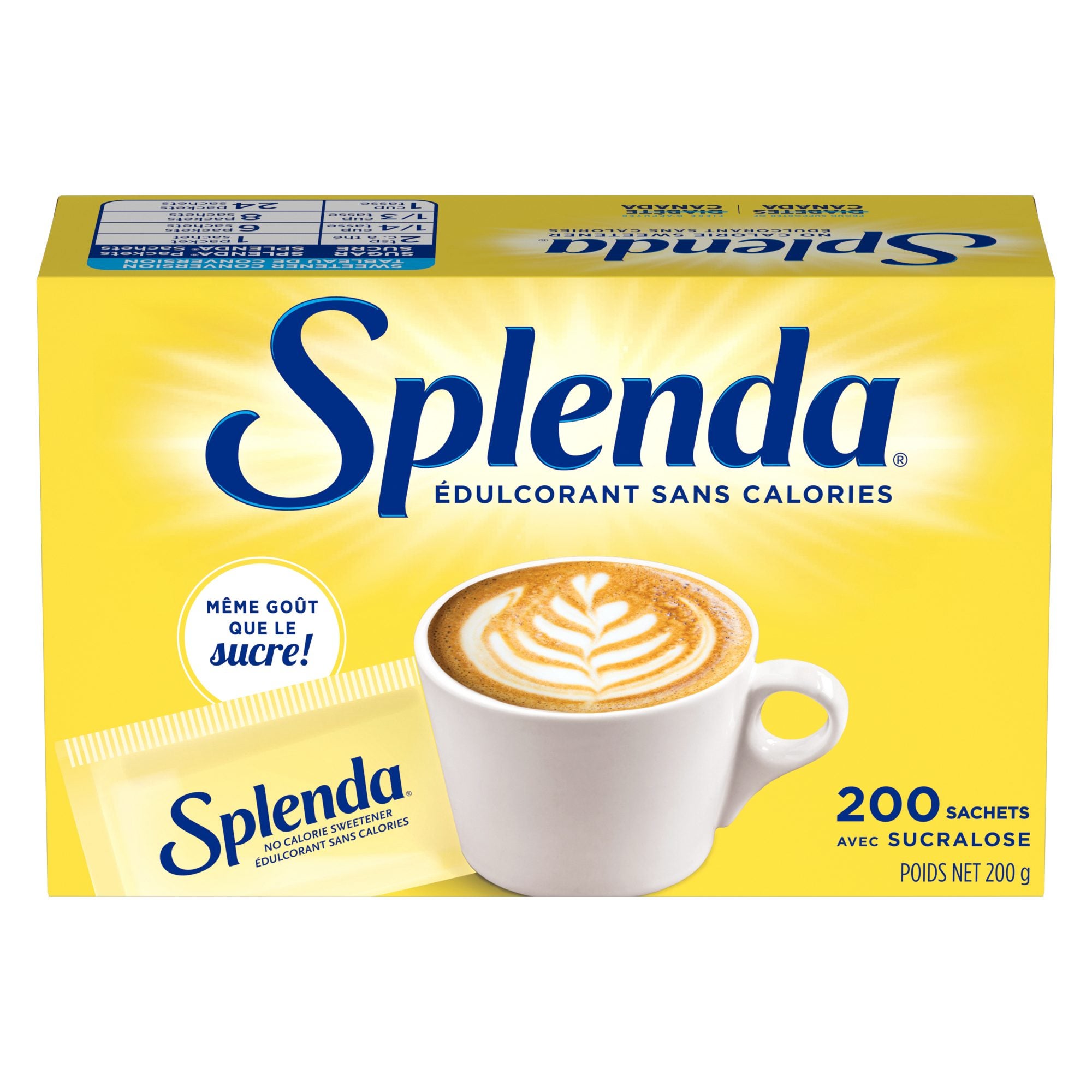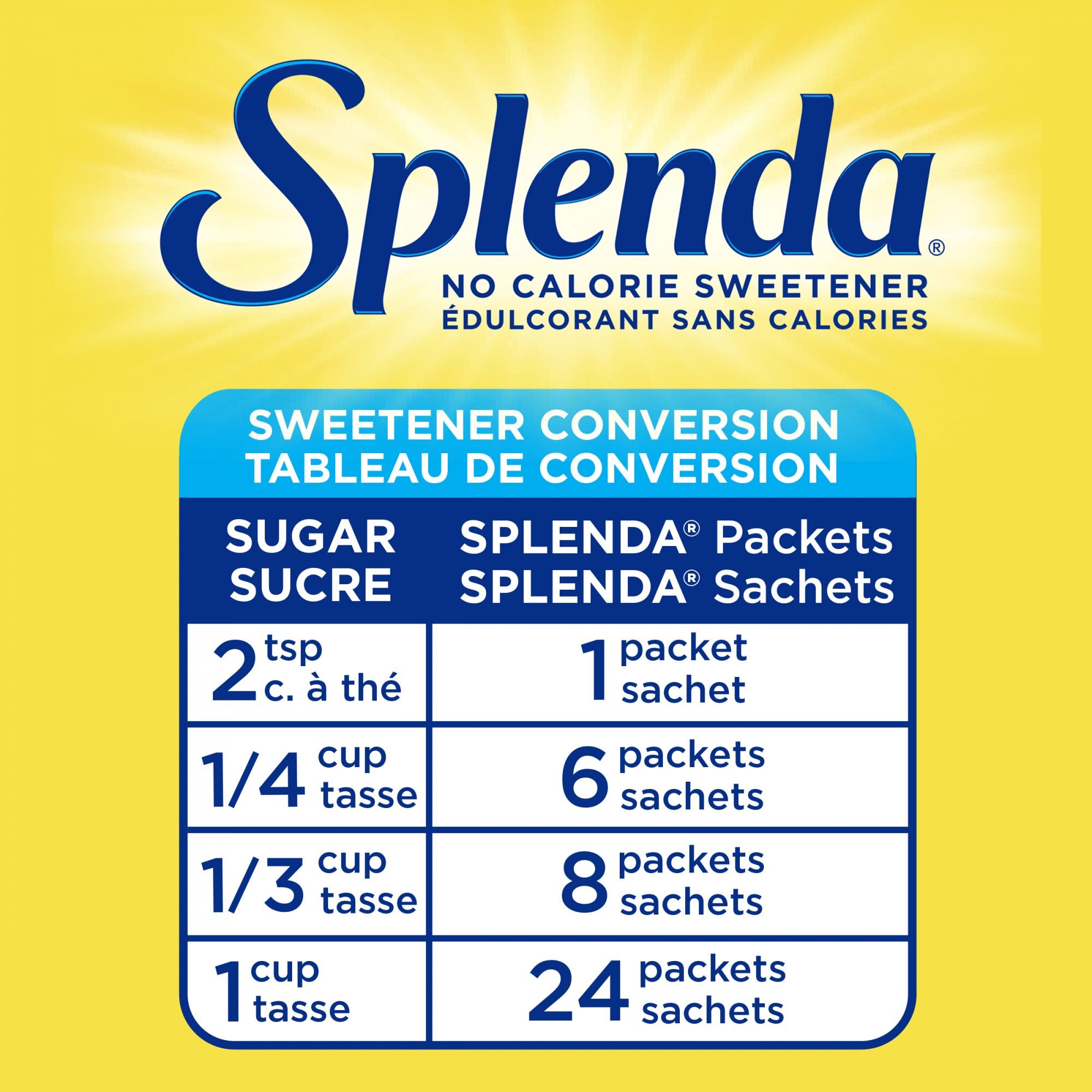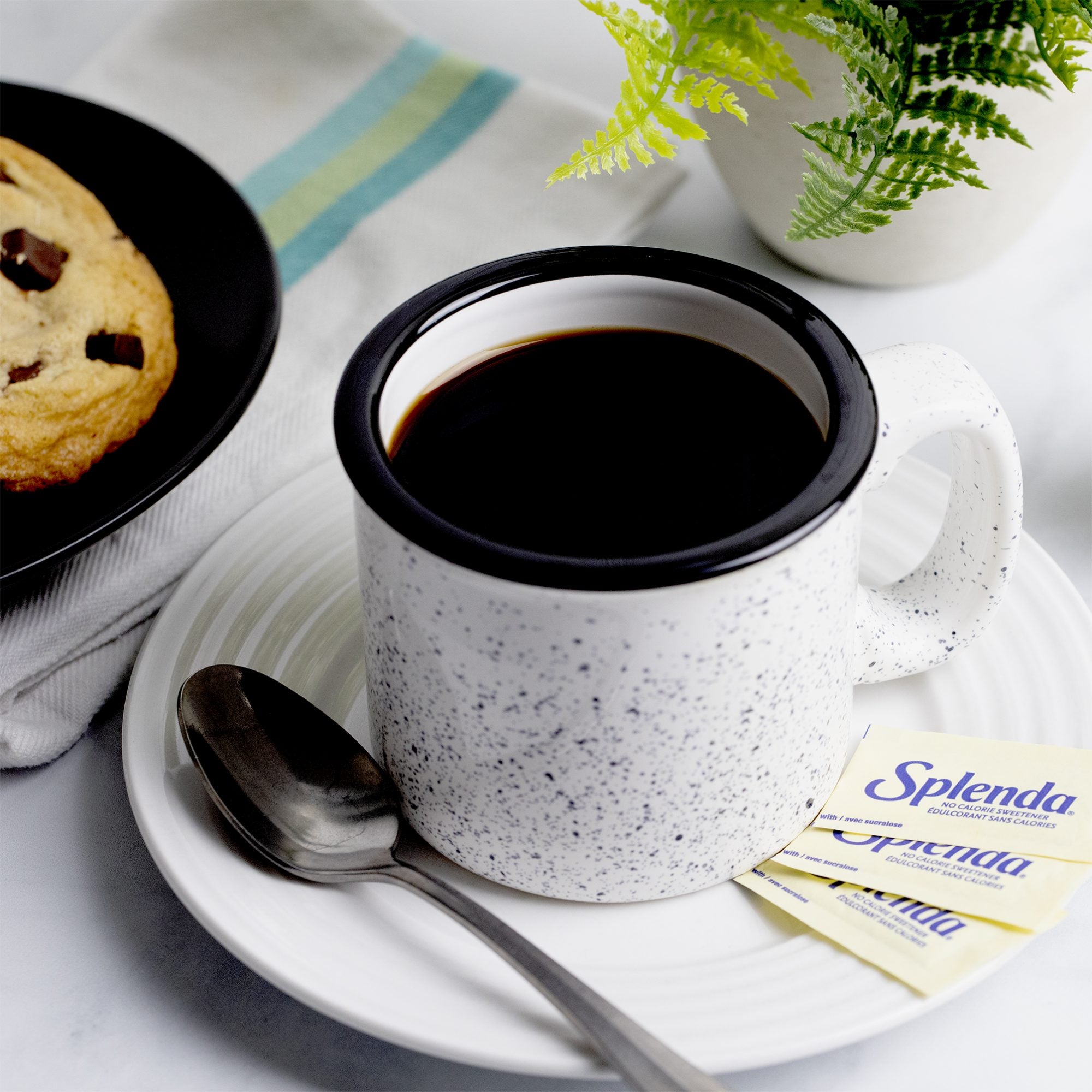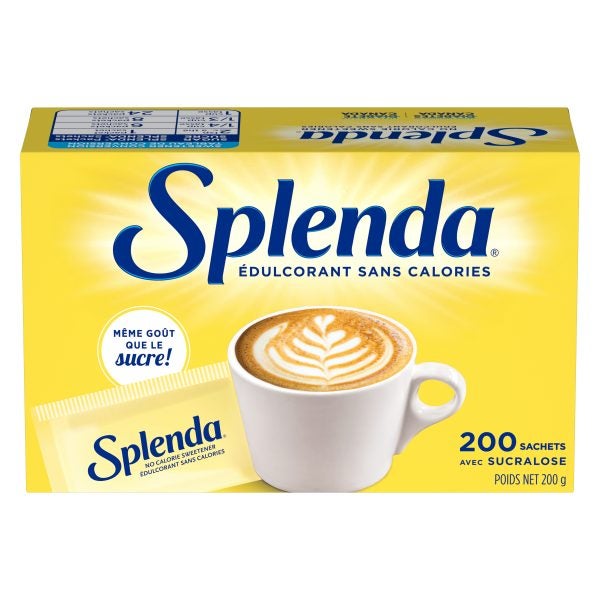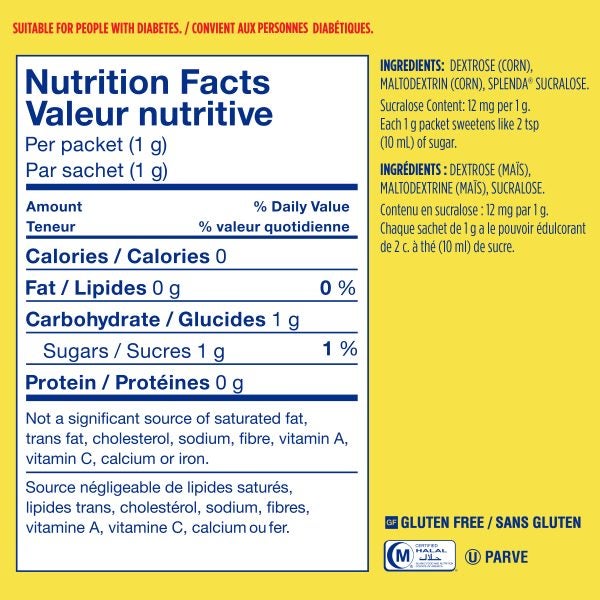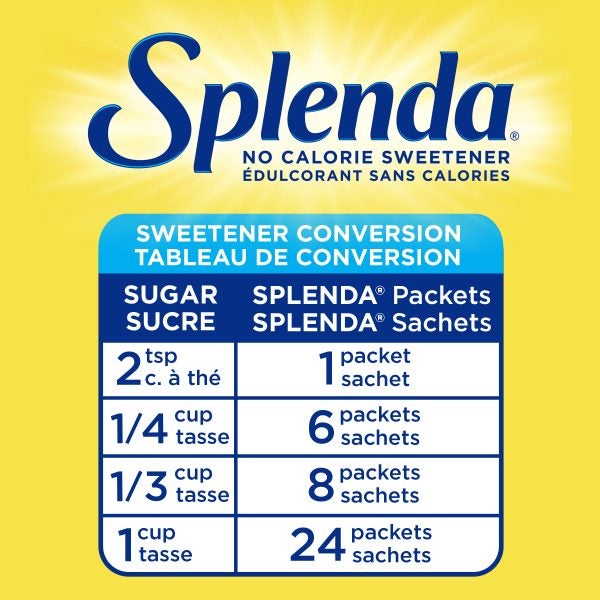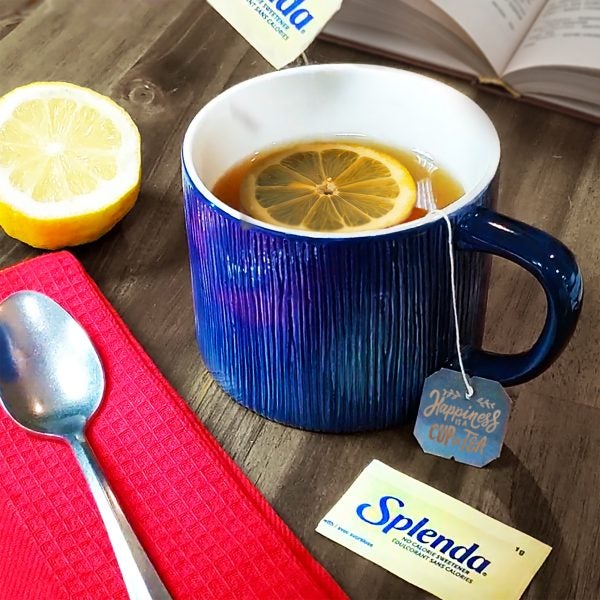 Splenda® Sweetener Packets
Our Splenda Sweetener tastes like sugar with no calories. It is the perfect no calorie sugar alternative for sweetening your coffee, tea, other beverages, oatmeal, fruit, and more! Try Splenda sweeteners today and taste the difference!
Choose from 50, 100, 200, 400, and 2000 packet cartons.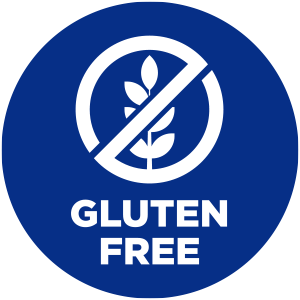 Fast Facts:
no calorie sweetener

Tastes like sugar

Convenient for on-the-go sweetness
Ingredients:
Dextrose, Maltodextrin, Splenda Sucralose
Does not contain Erythritol
Sweetness to Sugar:
Each packet provides the sweetness of two teaspoons of sugar
Convert Sugar to Splenda:
Convert Sugar to Splenda in Your Recipes
Want to turn your favorite dessert recipe into a less added sugar version? Simply select the type of Splenda Product you want to use from the menu below, then the amount of sugar in your recipe. We'll tell you how much Splenda Sweetener to use in place of sugar!
Convert Sugar to Splenda Sweetener Packets

| Amount of Sugar | Amount of Splenda Sweetener Packets |
| --- | --- |
| 2 tsp | 1 packet |
| 1 tbsp | 1 1/2 packets |
| 1/8 cup | 3 packets |
| 1/4 cup | 6 packets |
| 1/3 cup | 8 packets |
| 1/2 cup | 12 packets |
| 2/3 cup | 16 packets |
| 3/4 cup | 18 packets |
| 1 cup | 24 packets |
Convert Sugar to Splenda Granulated Sweetener

| Amount of Sugar | Amount of Splenda Granulated Sweetener |
| --- | --- |
| 1 tsp | 1 tsp |
| 1 tbsp | 1 tbsp |
| 1/4 cup | 1/4 cup |
| 1/3 cup | 1/3 cup |
| 1/2 cup | 1/2 cup |
| 2/3 cup | 2/3 cup |
| 3/4 cup | 3/4 cup |
| 1 cup | 1 cup |
Convert Sugar to Splenda Brown Sugar Blend

| Amount of Sugar | Amount of Splenda Brown Sugar Blend |
| --- | --- |
| 1/4 cup | 2 tbsp |
| 1/2 cup | 1/4 cup |
| 2/3 cup | 1/3 cup |
| 3/4 cup | 6 tbsp |
| 1 cup | 1/2 cup |
Convert Sugar to Splenda Minis

| Amount of Sugar | Amount of Splenda Minis |
| --- | --- |
| 2 tsp | 2 tablets |
Convert Sugar to Splenda Stevia Sweetener Packets

| Amount of Sugar | Amount of Splenda Stevia Sweetener Packets |
| --- | --- |
| 2 tsp sugar | 1 packet |
| 1 tbsp sugar | 1 1/2 packets |
| 1/8 cup sugar | 3 packets |
| 1/4 cup sugar | 6 packets |
| 1/3 cup sugar | 8 packets |
| 1/2 cup sugar | 12 packets |
| 2/3 cup sugar | 16 packets |
| 3/4 cup sugar | 18 packets |
| 1 cup sugar | 24 packets |
Convert Sugar to Splenda Stevia Sweetener Jar

| Amount of Sugar | Amount of Splenda Stevia Sweetener Jar |
| --- | --- |
| 1 tsp | 1/2 tsp |
| 1 tbsp | 1/2 tbsp |
| 1/4 cup | 2 tbsp |
| 1/3 cup | 2 tbsp + 2 tsp |
| 1/2 cup | 1/4 cup |
| 2/3 cup | 1/3 cup |
| 3/4 cup | 6 tbsp |
| 1 cup | 1/2 cup |
Convert Sugar to Splenda Stevia Granulated Sweetener

| Amount of Sugar | Amount of Splenda Stevia Granulated Sweetener |
| --- | --- |
| 1 tsp | 1 tsp |
| 1 tbsp | 1 tbsp |
| 1/4 cup | 1/4 cup |
| 1/3 cup | 1/3 cup |
| 1/2 cup | 1/2 cup |
| 2/3 cup | 2/3 cup |
| 3/4 cup | 3/4 cup |
| 1 cup | 1 cup |
Convert Sugar to Splenda Monk Fruit Granulated Sweetener

| Amount of Sugar | Amount of Splenda Monk Fruit Granulated Sweetener |
| --- | --- |
| 1 tsp | 1 tsp |
| 1 tbsp | 1 tbsp |
| 1/4 cup | 1/4 cup |
| 1/3 cup | 1/3 cup |
| 1/2 cup | 1/2 cup |
| 2/3 cup | 2/3 cup |
| 3/4 cup | 3/4 cup |
| 1 cup | 1 cup |
Convert Sugar to Splenda Keto Granulated Sweetener

| Amount of Sugar | Amount of Splenda Keto Granulated Sweetener |
| --- | --- |
| 1 tsp | 1 tsp |
| 1 tbsp | 1 tbsp |
| 1/4 cup | 1/4 cup |
| 1/3 cup | 1/3 cup |
| 1/2 cup | 1/2 cup |
| 2/3 cup | 2/3 cup |
| 3/4 cup | 3/4 cup |
| 1 cup | 1 cup |
Convert Sugar to Splenda Stevia Liquid Sweetener

| Amount of Sugar | Amount of Splenda Stevia Liquid Sweetener |
| --- | --- |
| 1 tsp | 1/2 squeeze (1/16 tsp) |
| 2 tsp | 1 squeeze (1/8 tsp) |
| 1 tbsp | 1/6 tsp |